The Crossway Trails is a growing regional trail network working to connect families, commuters, and visitors across Northern Indiana and Southwestern Michigan to improve health, safety, quality of life, and mobility for all.
CHOOSE YOUR PATH
Choose your path on the Crossway Trails among the hundreds of miles of trails and bikeways connecting the region, providing endless opportunities to enjoy the outdoors.
SIGNIFICANT REGIONAL TRAILS
EXPERIENCE THE CROSSWAY
The Crossway Trails are a safe and healthy transportation experience. Whether your goal is a commute to work, an exercise routine, a social activity, or the best way to unwind after a long day, Crossroad Trails is that outdoor connection. The experience will only strengthen as the trail system grows and connects the region even more in the years to come.
SHARE YOUR CROSSWAY TRAIL EXPERIENCE
Post photos of your favorite trail experience on Instagram or Facebook, with hashtag #onthecrossway and tag them with your location. We may repost them here!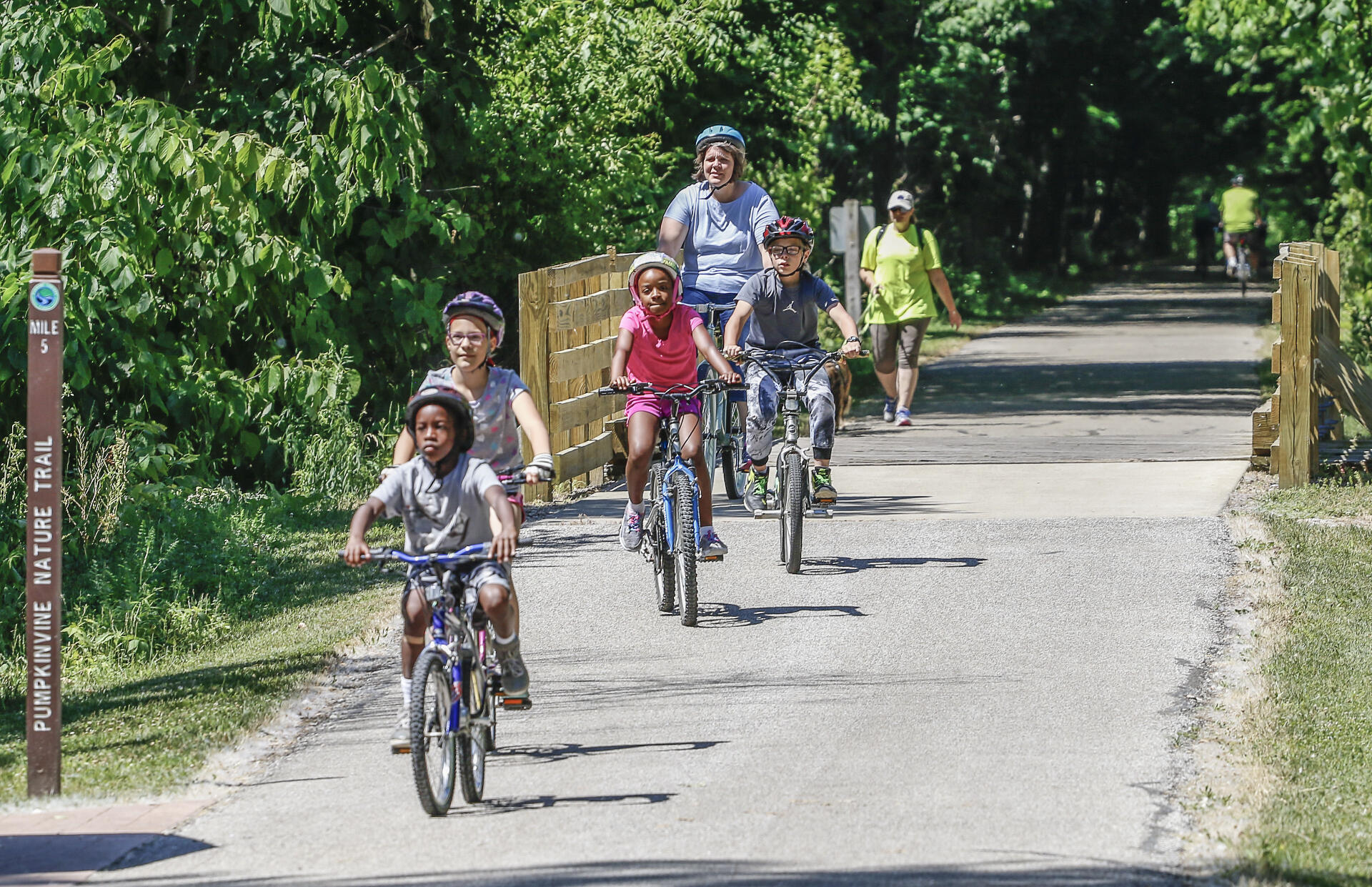 BE SAFE
The Crossway Trails are a great way to get around and explore the region, but everyone must remember to be safe. Whether if you are driving, biking, jogging or walking, it is on all of us to keep each other safe. This means keeping your eyes on the road, staying visible, and watching out for other users.

Check out the Walk and Safety Guide below for more ways to keep yourself and others safe. You can also visit the Drive Safe Michiana website with tips and informative videos on navigating our network safely.
Over 150 miles of trails to explore during Crossway Trails Month!
This July marks the first celebration of our Region's trails with Crossway Trails Month. All month long, you are encouraged to explore the over 150 miles of existing trails in Northern Indiana and Southwest Michigan.

Support for this month's activities and promotions is provided thanks to NIPSCO's Environmental Action Grant.
MILEAGE CHALLENGE
While you are exploring the region's trails, you might as well be awarded for it! The Mileage Challenge will run for the full month of July and is free to join. Participants will self-report their daily mileage for a chance to win prizes at the end of the month!

Prize categories include:
Most Miles
Longest Consecutive Trip
Most Commuter Miles

At the end of the month, MACOG will calculate the total reduction in emissions from participants replacing a car trip with active transportation.
SCAVENGER HUNT
What is more adventurous than a Scavenger Hunt! We will be hiding Crossway Trails Ducks on various trails throughout the region. Each trail user that takes a picture with one of the Crossway Trails Ducks and posts it to social media will be entered to win a prize. Every photo is one entry, so try your local trail and one in another city!
Winners will be announced and prizes distributed at the end of the month. Check back on this page, and you may find your photo featured!
To Enter the Contest:
Find one of the Crossway Trails Ducks hidden along a trail in Northern Indiana and Southwestern Michigan.

Take a photo with the Crossway Trails Duck

Post the photo to Facebook or Instagram, and tag @CrosswayTrails with #OnTheCrossway